Legiit Featured Service Of The Week
Every Week The Legiit Management Team Will Be Selecting The Legiit Featured Service Of The Week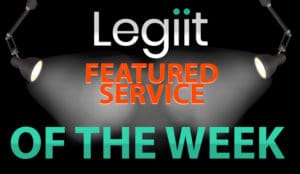 Each Service Selected Will:
Have Their Service Displayed In A Pinned Post In Both The Legiit Official Facebook Group And The Superstar SEO Facebook Group For The Entire Week
Be Sent To The Entire Superstar SEO and Legiit Email List
Be Featured In A Video On The Superstar SEO Youtube Channel
Be given an image to add to their service saying something to the effect of "Legiit Featured Service Week Of XX/XX/XXXX
Be highlighted on the site as a featured service
Rules:
1. It will never ever be one of my services
2. I will not be looking at the entries myself.
The decision will be made by my staff (who don't know any of you) each week to ensure impartiality.
3. You will be required to provide at least a demonstration of your service, with a full complimentary example being preferred that will be displayed publicly if chosen.
This is done to ensure that quality services are featured and to maintain the integrity of the recommendation.
4. No one seller will be featured more than once per calendar year.
5. If you "follow up" or ask in any way if your service will be picked, why yours wasn't picked, if we got yours or anything that in any way annoys me or my staff you will be disqualified. Forever.
6. You MUST fill out this form: https://superstarseo.com/legiitfeaturedservice to be considered.
Sending the information anywhere else including commenting on this or any other post will disqualify you from consideration.
Good luck everyone!
Legiit Featured Service Of The Week 6/18/2018
For about 2 years one of the ways I got some of my first revenue in SEO was ranking super easy keywords.
I would either be selling the leads, rent the video, or use the ranking to get clients.
I also put out Superstar Local Video Mastery as my very first course last year. Many of you have it and some have really done well with it.
I don't really do much of this anymore.
Not because it doesn't still work, because it does.
But the trick with the method I teach is to do it at scale… and that takes time.
A lot of time.
So as I started growing other ventures I just didn't have time for it.
But I don't want everyone to give up on this method.
So I found a solution… or rather Randy James did with our Legiit featured service of the week.
In this service he will do uploads, using a proprietary software at $1 a piece (minimum of 50) and often gets 20 – 50 first page rankings from a single run (depending on the terms).
You just provide him the keyword list and a spun article for the description (which he has an extra to provide for you if you prefer)
That's it. Hours, or days worth of work done.
If you're not familiar with the method I am talking about I made a quick video to go into a bit more details.
https://www.youtube.com/watch?v=vj3dxSpUhkw
Or you can just go check out the service at:https://legiit.com/service/details/1123
And hey if you like it this would be a good time to take advantage of the Legiit affiliate program.
Enjoy!
?
Legiit Featured Service Of The Week 6/7/2018
Animated Logo video intros (such as the one below) you just give the seller Michael Pedrotti your logo and he will create one of these slick looking professional video intros…
…for only $5
https://www.legiit.com/service/details/1346
These really spice up your videos, show off your brand, and make them look more clean and professional and at that price, you can get a few variations and customizations.
Legiit Featured Service Of The Week 5/31/2018
This week's featured service can be explained by a simple equation:
Strong Links + Strong Links = Improved Rankings
Crazy right!
I have talked about the power of Guest Posts in the past (I offer them myself) and how having real sites with real traffic is key to a quality link.
The only downside to a guest post is that in most cases it's on a brand new inner page that doesn't have much page authority and no links of its own going to it
That's where this service comes in.
What Perry Moore has done is combined the power and traffic of guest posts with the strength and versatility of PBNs.
He gets you a guest post with real, organic traffic, and high DA then he powers it up with 5 high Trust Flow PBNs…
…and the results are amazing.
(Pictured below)
This isn't rocket science. He isn't reinventing the wheel. Its just strong links powered by strong links, resulting in strong rankings.
If you need some power for your site at a ridiculously low price this is what you have been looking for.
https://www.legiit.com/service/details/985
Click here to view a sample guest post.
Legiit Featured Service Of The Week 5/23/2018
Links are super important for SEO. Onsite optimization is really important for SEO.
SEO is super important for getting traffic.
None of that matters if your site sucks.
If it takes doesn't appeal to what the user wants, it won't convert.
If it doesn't make it clear what is for sale, it won't matter how much traffic it gets.
And if your site is so slow that people have to wait for it to load… they will click the back button and nothing else will matter.
Site speed is a crucial element to SEO and to having an internet presence in general…
…and almost no one knows how to do it right.
I recent months I have hired 4 different people to do site speed work for me.
Some of them didn't get the job done.
Some of them made the site worse
1 of them is very well known for being a site speed expert and he did literally no work at all.
1 of them finally got the results I was looking for…
…and that is why he is this week's Legiit featured service of the week.
https://www.legiit.com/service/details/1365
This service offers 3 tiers starting at $39 but I suggest you go with the highest tier that guarantees an A rating on your site speed or your money back (most sellers make me cringe when they have a guarantee but I have come to know and trust this one)
If you don't know what you are doing you can really mess up a sire doing site speed optimization… I know I have before… so it is best to leave it to a professional.
Your SEO will improve, your user experience will improve, and your conversions could improve as well.
It is a fairly time-consuming process though so I doubt he will be able to take on a ton of people so I suggest you jump on this ASAP.
https://www.legiit.com/service/details/1365
Legiit Featured Service Of The Week 5/16/2018
We SEOs love our metrics.
We love our
TFs & CFs
DAs and PAs
URs and DRs
And dozens of others that I could name. And you know what?
They are important.
They give us a snapshot of what a site is about, and if it is worth our time.
Knowing this however, put some unscrupulous people at an advantage.
You see every metric can be manipulated.
Can be artificially inflated.
Using unethical or "black hat" techniques any of those metrics we love can be made to tell whatever story the scammer wants you to believe.
Has this happened to you before?
I know it has to me.
And while I still use metrics as a guideline I have found a better way to evaluate a link and a site.
I took off my "SEO" hat and asked myself… what really makes a site (and in turn the links from it) valuable?
The answer was clear:
Real traffic, and other people linking to the site.
That's what makes a site truly valuable, and links from that site as effective as possible.
From there though I had to figure out what types of sites could accomplish this.
Blogs are great. I have a large network of them that I use for this purpose.
But I work in a lot of different industries, so it means using a bunch of different sites.
I wanted to find a type of site that could handle most any niche; and then it dawned on me…
…news sites.
News sites have everything I was looking for
Natural Traffic
Strong incoming links
And the ability to handle most any topic
Of course you can't just go to Fox News or MSNBC and throw a link on their site.
So you need other alternatives.
That's where sites like those on this week's Legiit Featured Service Of The Week come in.
Tim Schmidt who has been a leader and influencer in affiliate SEO and link building for over a decade has launched a great service, for an incredibly reasonable price, that gives everything you need from a link:
A live news site that gets real traffic and has inbound links from places like
Wikipedia
Huffington Post
ESPN
And many other incredibly strong sites.
The posts on this site will sometimes even rank all on their own.
They may also show up in Google News.
This is one of those "Must have" type links for any campaign and is definitely a steal at the price.
Check it out at: https://www.legiit.com/service/details/1304
Legiit Featured Service Of The Week 5/8/2018
"Writing is easy. All you have to do is cross out the wrong words." – Mark Twain
The written word is probably humanities greatest accomplishment.
Virtually every intellectual, societal, and technological advancement human kind has ever had or ever will have owes its origins to writing.
It is how we communicate, it is how we document, it is how we tell the story of us.
Thousands of years after its discovery it still influences every aspect of our society.
In personal relationships it is how we communicate love and sorrow
In technology and creativity it is how we bring our visions to life
In business it is how tell the world about what we have to offer
But it writing in a way that accomplishes the writers intent doesn't come easy to all of us.
Many of us struggle to take what is in our hearts and minds, put pen to paper (or keyboard to word processor) and turn it into something real.
Indeed written copy is the #1 selling type of service on Legiit, we are very blessed to have access to so many amazing talents.
That includes the winner of this week's Legiit Featured Service of the week Ish Stabosz
Ish is a professional copywriter.
That word is important:
Copywriter
Copy is different than content. Copy not only informs the reader, but it persuades them.
It tells them a story.
It turns them from a reader into a buyer.
That's what copy is, and that is what Ish provides in this service
https://www.legiit.com/service/details/139
Copywriting is often very expensive, Google it if you don't believe me.
So we are very fortunate to have a member of our community who is willing to help give everyone access to professional level copy at an affordable price.
I have personally used his service on sites that are very important to me and my business, so I am excited that this service was chosen.
If you have any need for any kind of written copy, or content, there is literally no better deal available anywhere online.
Take advantage of it while you can, and please thank Ish for giving us this opportunity.
https://www.legiit.com/service/details/139
Legiit Featured Service Of The Week 5/1/2018
>>> https://legiit.com/service/details/1047 <<<
A while back some guy I have never heard of that has an internet marketer Youtube channel made a video about ranking an Amazon product in Google.
In the video he said all you have to do is send social signals to an Amazon listing and it will "rank in Google, and explode your sales!". He recommended one of my social signals services in the video, and ever since then I have gotten a bunch of sales from people that want to rank their Amazon product in Google which is great, but there was a problem…
…that's not how it works, and I was left with a bunch of unhappy customers.
But because I am an entrepreneur I realized that there was an opportunity here… but unfortunately I just don't have the room to add another service that involved to my business right now
So I let the Superstar SEO community know that there was a huge business opportunity here (https://www.facebook.com/groups/superstarseo/permalink/1695285110547625/)
And I am happy to say that someone (specifically Kiril Grozdanovski ) has taken that opening and run with it… enter this weeks Legiit Featured Service Of The Week!
>>> https://legiit.com/service/details/1047 <<<
For this service Kiril will do:
Competitor Analysis
Keyword Research
On-Page SEO
Off-Page SEO
YouTube Product Video (this alone is worth the investment IMO)
YouTube Product Video Ranking Package
Of course this SEO and rankings are never guaranteed, but Kiril has already had great success with his technique (see first comment for an example.
So if you are doing FBA, or have been thinking of getting into it the potential ROI here should be obvious and judging by the number of orders *I* have gotten for this result I am guessing that Kiril is going to get overwhelmed pretty fast so jump on this while you can!
https://legiit.com/service/details/1047
Legiit Featured Service Of The Week 4/24/2018
The #1 most important thing to ranking in Google Maps is having consistent and accurate Name, Address, and Phone Number (NAP)…
…but as anyone that has done local SEO before knows, this can be a nightmare to get right. Especially if you are taking over a new client.
Enter this week's service of the week.
In this service the seller Mac Tek will:
Sync up to 200 (with a few exceptions, check the sales page) of your citations to make sure they are correct including:
NAP
Images
Details
Hours
Website link and more
With most of them being done within 72 hours.
There are also advanced packages that will give you access to a dashboard that will allow you to monitor your NAP and fix them as needed.
If you are attempting to rank in Google maps this service is a great way to save yourself a ton of time in getting your citations right, and the price is incredible, definitely worth checking out!
Legiit Featured Service Of The Week 4/17/2018
Google is getting much smarter about figuring out where you are searching from and serving you location specific results.
This is a challenge that those of us doing local SEO are going to have to get used to this and adapt to as Google is only going to keep getting better at this as time goes on.
One of the solutions that has seen a good success rate is creating custom maps with driving directions.
…but that's super tedious and time-consuming.
Enter this week's service of the week.
In this service, the seller Rabih Rizk will create a custom map with
90+ Places
5 Geo-Tagged Photos
A 15 Mile Radius
5 Different Driving Directions
…all for $45 (there are also smaller packages available)
If you have already done all the steps to get your site ranking in Google maps but just need an extra bit of help this is a great way to go and a total steal at this price.
I literally just ordered one myself!
Check it out at: https://www.legiit.com/service/details/589
Legiit Featured Service Of The Week 4/10/2018
A little over a year ago I made a video showing you how to get a Do-Follow link from Reddit (one of the top 10 most visited sites in the world and a DA 99) and it was a big hit and one I still get asked about today its an awesome link building and traffic generating technique…
…but there is a problem
You first have to start a Reddit account and build up some "Karma" in order to start a subreddit and take advantage of this powerful technique.
I'm to busy to be commenting on forums all day and so are you.
This has prevented a lot of people from taking full advantage of this powerful technique and in turn they have missed out on the advantages it brings.
Enter this week's Legiit featured service of the week: https://www.legiit.com/service/details/886
In this service Nick Giuliani will not only get you a DO Follow link from DA 99 Reddit it will be in a custom Subreddit from an aged account that already has High Karma and An aggregator bot account 50 subscribers dripped to your new subreddit to help it appear active and real.
I think the benefits here are pretty obvious… you now have as niche relevant source to get powerful do follow links from one of the strangest sites on the internet… this one is a must for pretty much any SEO campaign
I would imagine this is not something that can be offered at scale very long so I would jump on it while you can.
Legiit Featured Service Of The Week 4/3/2018
This week's featured service of the week helps address something that is frighteningly overlooked by even experienced SEOs…
On site SEO
We get so focused on setting up a dripfed and pillow linked, Google entity stacked IFTT wheel that reverse syndicates content when the humidity in Duluth Iowa exceeds 20%
while aggregating to a white hat out reach Yandex email campaign wrapped in a Syndwire blast embedded in a niche relevant Twitter moment that we often overlook the very first thing we should get right for SEO… our site.
This is somewhat understandable since there are dozens or even hundreds of factors to consider in properly optimizing your site to get the most out of it… its not just as simple as turning all the lights green in Yoast… it is a tedious and time consuming process that needs to be done right the first time if at all possible.
Enter a tool called Cora… Cora is a site audit tool… but it doesn't spit out some generic report like Woorank does it really deep dive your site and give you a report with hundreds of things you can change that will help you optimize your site in a way that will 100% separate you from your competition.
According to the Cora site "This software is very technical and requires extensive knowledge of SEO and statistics to use effectively. The intended customer of this tool is a Marketing Agency that is looking to distinguish its SEO services from mainstream SEO by conducting primary research and empirically measuring SEO factors for statistical correlations with rankings."
That's super powerful, as you can tell… but there is a problem…
Cora is really expensive at $250 a month.
So unless you are taking on hundreds of clients or sites a month its probably not worth the investment for most people…
Enter this service.
For only $15 this seller will run a complete audit of up to 5 keywords using Cora that will give you all the steps you need to fully optimize your site and either get a great jump start on your rankings, or get over the hump and on to the first page!
This is honestly something you should be doing for every single site you do SEO for and this service will remove a big price hurdle for you.
You are honestly doing your client/site a disservice by not taking advantage of this.
https://www.legiit.com/service/details/358
Legiit Featured Service Of The Week 3/27/2018
This week's service of the week is a powerful one that can boost rankings site wide all at once via Domain Authority Stacking.
I do one of these for every new site/client I pick up and I have gotten incredible results with it in the past (see an example of one of my clients in the real estate niche in the comments.
Domain Authority Stacking is essentially taking high authority properties (web 2.0, social, Google properties etc…) interlinking them in a strategic way to increase the power of each, then pass that power on to your money site.
This particular one uses a unique twist on that technique and has gotten incredible results over and over again to the point that it has gotten thousands of sales and endorsements from some of the most well known names in SEO.
At the price the benefits are undeniable and well worth adding to any SEO campaign, I suggest you start adding this to your arsenal ASAP!
https://www.legiit.com/service/details/146
Legiit Featured Service Of The Week 3/20/2018
This week's service of the week is an integral part of any local SEO or general branding campaign and is something I do for every client to both build hundreds of powerful foundational links, drive traffic, and create citations all at once and it often leads to a ranking increase and in many cases I have seen first page rankings in just 24 hours!
Press Releases
A press release in case you aren't familiar is a well written article with an announcement about your business that is then submitted to news outlets throughout the country and world.
Sites like PR Web and Press Cable charge $200 – $500 a piece for these and require you to write your own article in most cases.
This service produces the same or better quality for a fraction of the price by someone that not only understands press releases but also SEO.
At $67 this really is an unbeatable price that you should take advantage of for all of your clients, both for the powerful mix of do and no follow links, and the traffic that the release itself can provide.
>>> https://www.legiit.com/service/details/140<<<
Here is an example report.
Legiit Featured Service Of The Week 3/13/2018
>>> https://www.legiit.com/service/details/401 <<<
This week's service of the week is one I have been using for over a year in my own business so I am pumped that it got chosen!
As many of you know I have have been stressing the power of syndication for your website/blog and even more so for your Youtube channel for forever (seriously, go read a newspaper from the 1920s and you will see me talking about it!)
The simplest, most effective, and most affordable way to achieve this is through a SaaS called IFTTT.
IFTTT is great BUT to really take advantage of it is very time consuming and tedious to setup properly unless…
…you use the Legiit Featured Service Of The Week for the week of 3/13/2018
Starting at $5 this service will build out an entire IFTTT will build out a minimum of 10 Accounts Fully Optimized, Interlinked And Recipes Created meaning that you make a post or upload a video and it will instantly get syndicated to a minimum of 10 accounts that look totally real.
At $5 that is .50 per account. Even less if you factor in the work required in getting them setup.
This is an absolute no brainer for anyone with any type of site that posts regularly or a Youtube channel.
I can't recommend it highly enough!
Legiit Featured Service Of The Week 3/6/2018
I don't know about you, but when I start a new site whether it be affiliate, local, E-Commerce or a PBN site the thing that most often holds me back is getting a nice looking site together quickly.
This service will make you a nice looking site for the price of a cup of coffee and will even setup a full E-Commerce site with products for a ridiculously low rate.
You could even use it to make a realistic looking PBN for as little as $5
Check out some examples:
https://stavros-savva-co-ltd.com.cy/
https://taxivangelisandson.com/
https://atlantisnpaphoscruises.com/
At this rate these prices I suspect the workload will get to be too much for the seller pretty fast so I would scoop up a few of these for PBNs at least before he is forced to raise his rates.
Please check out this seller's service! https://legiit.com/service/details/492
Legiit Featured Service Of The Week 2/26/2018
As we know getting a verified Google Business listing for a location where you don't have an address available can be near impossible. I have shown some black hat methods in the past but with this service you can get a much more reliable and guaranteed to stick GMB listing for an additional location, a lead gen site or anything else.
You can see an example at: https://cl.ly/pppI